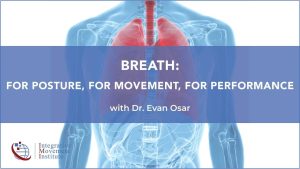 Breath: For Posture, For Movement, For Performance
The Breath: for Posture, for Movement, for Performance program was created for health and fitness professionals just like you who have been looking for a practical resource for learning how incorporate breath training to improve flexibility, strength, and balance. You will be able to immediately integrate each practical lesson into your client's current training programs.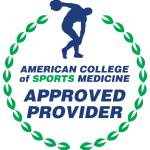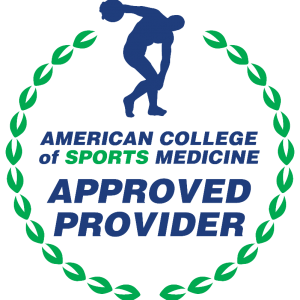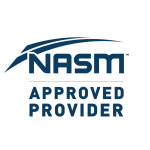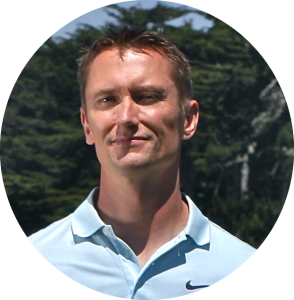 The Complete Guide to Balance Training
Developed by FAI Advisory Board Member Dr. Chris Thompson
Learn how to deliver effective balance and fall risk reduction exercise programs to ALL your older clients – from fit to frail!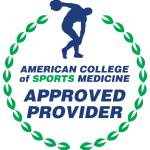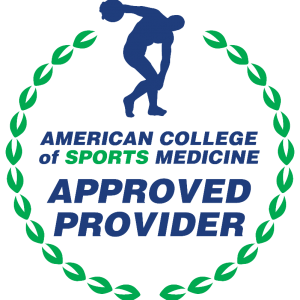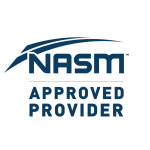 Training Clients with Joint Replacements
Training clients with Joint Replacements is designed to help the fitness professional or personal trainer become more confident in dealing with joint replacement clients and also clients dealing with major degenerative joint issues.
Currently, over 7 million Americans are living with joint replacements of the knee or hip, so fitness professionals definitely need to be comfortable working with them.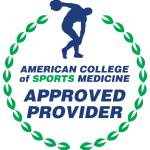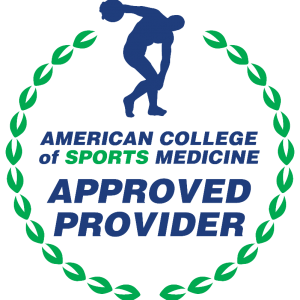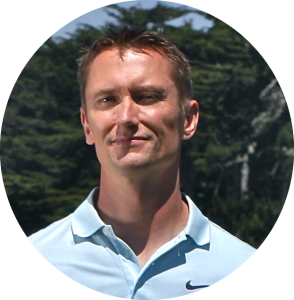 The Complete Guide to Training the Active Ager
Developed by FAI Advisory Board Member Dr. Chris Thompson
Course objectives include:
Understand the Baby Boomer generation's view on aging and how it should impact their exercise programming.
Appreciate the role of active aging Appreciate the role of active aging on the maintenance of important functional capacities.
Learn the steps to onboard new active aging older clients through pre-participation screening, health history and motivational interviewing.
Determine the most effective assessment strategies for active aging clients and utilize cutting edge exercise program design guidance to make them "Jacks/Jills Of All Trades".
Adapt training programs for various common chronic conditions to ensure optimal results.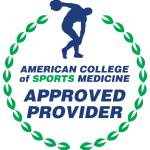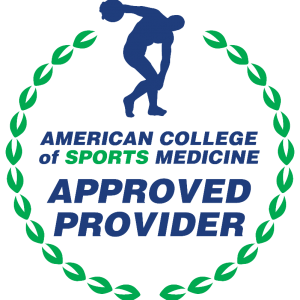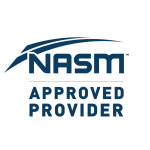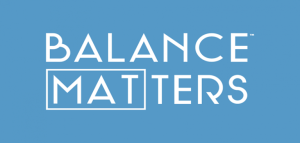 Want to offer more creative balance training options for your clients with quicker results?
We all know balance matters, but choosing the right exercise and feedback also matters to progress balance and optimize motor performance.
Learning concepts include:
✅ EXPAND BALANCE TRAINING with a more in depth understanding of how to be more specific and progress balance exercises with new cues and tips.
✅ MASTER new exercise options to incorporate into your balance circuits and motivate your clients toward greater improvements.
✅ LEARN how to design a balance exercise to be "just right" for your client to be in "Goldilocks zone." If an exercise is too easy, your client will not see the benefits; if it's too hard, they may lose confidence, self-efficacy, and motivation to continue.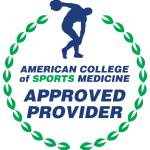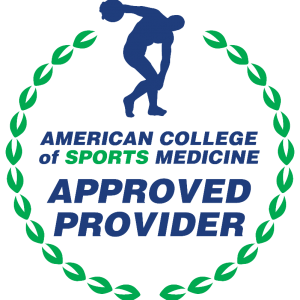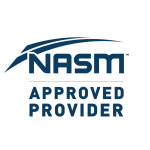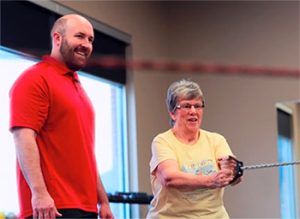 FAI Client Attraction System with Dr. Dan Ritchie
If you are looking to grow or start a business this will give you some great insights. Even if you are not a business owner, this will help you get 3-5 new clients in the next 30 days!
There are five sessions in total and just over 5 hours of content for you. You will have the video presentation plus the handout for each. We are excited to help grow, kickstart, or launch your business! And now you can even get valuable approved CEUs for business education.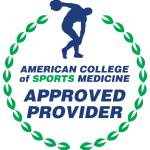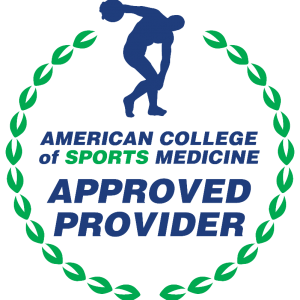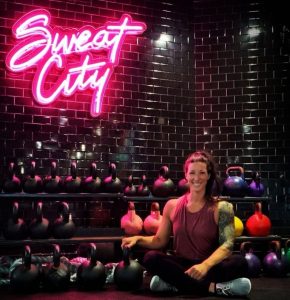 Intro to Kettlebells for Active Agers
How can kettlebells improve our mature market's quality of life?
We'll cover what our active agers are looking for when they join a fitness community, why and how kettlebell training can impact their wellness, movements you can implement and how to program using FAI's physical function model to get them our living their best lives!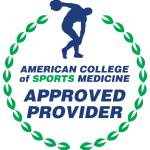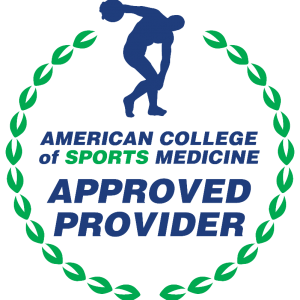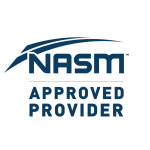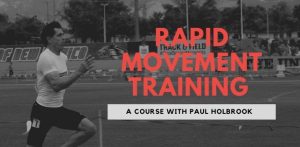 Rapid Movement Training Course
3 Core elements to the course
Introduction to Speed Training
Foundations of Speed Training
Programming Speed Training
This course will look at the importance of speed and power, how to make it functional, and where to program it into a session.We will also look at just how "powerful" speed and power might be in programming for older adults! You will also develop an understanding about the importance of speed training and why it's not being emphasized as much as it should be. You will learn that speed or rapid movement just might be the holy grail to develop better physical function in this population.This course will also demonstrate what exercises are best to use and where to fit them into a training program.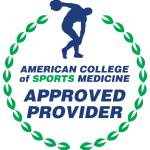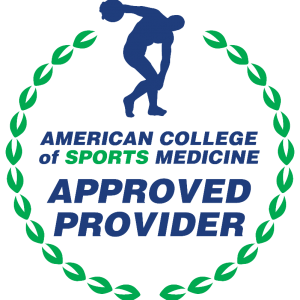 BARE® (Barefoot Balance Training) Workout Certification
Created by Podiatrist & Human Movement Specialist, Dr Emily Splichal BARE® (Barefoot Balance Training) is the only workout that combines the benefits of barefoot, balance, bodyweight and body tension training for one effective training program!
Bring the science of foot to core sequencing, breath & pelvic floor connections and fascial tensioning to a senior fitness setting. This series is the perfect addition to a Pilates program, Senior Fitness, Mind Body line-up or any athletic performance program.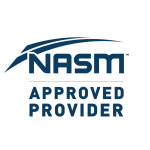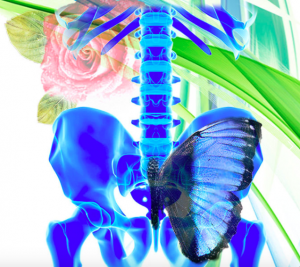 The PELVIC BALANCE Workshop integrates with EBFA Global's current educational line-up by following our philosophy about fascial fitness, from the ground up movement and breath to pelvic floor connections.
PELVIC BALANCE teaches the student to deeply understand the function of the integrated pelvic floor and it's fascial attachments, to effectively assess pelvic function and develop integrated rehabilitation programming for the pelvis.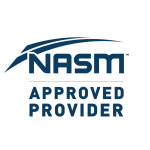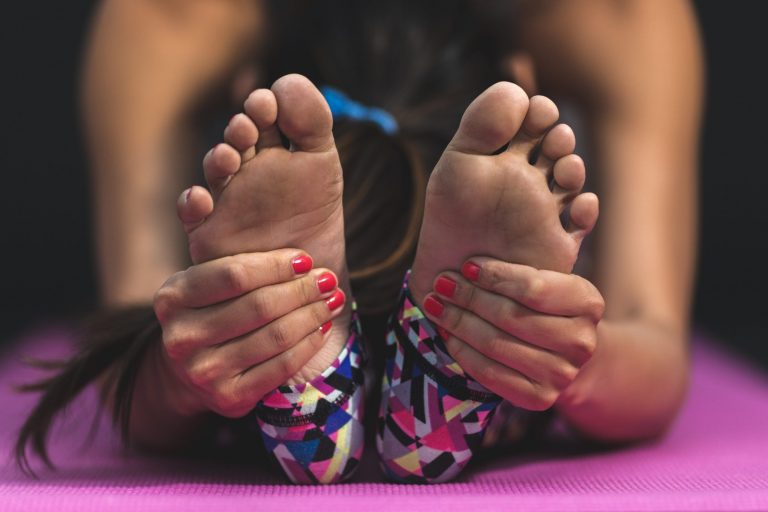 The Feet, Fascia, and Functional Movement Course
The dynamic control of functional movement is deeply integrated on the body's perception of the outside world. Join Dr Emily for this 3 part series as we explore the latest research on how our feet, fascia and functional movement are even more integrated than we currently realize.
From fascial tensioning to fascial elasticity our fascia plays a role in how we perceive, store and transfer forces during dynamic movement. This webinar series will prepare you how to train your clients for more efficient and precise movement.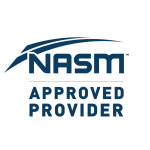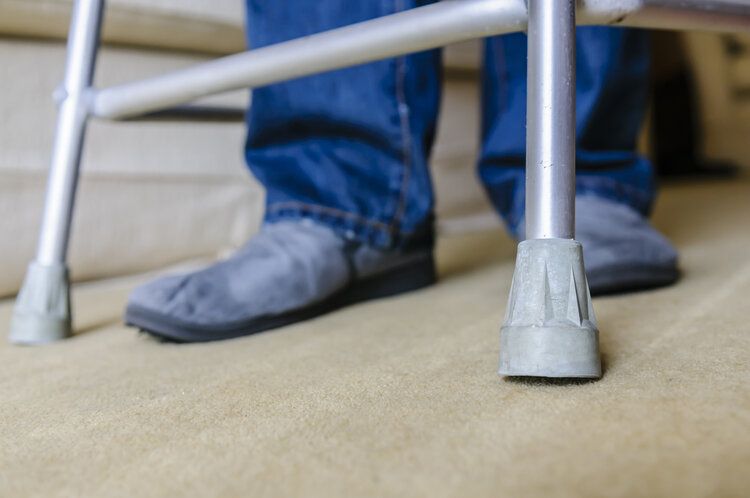 The Mastering Movement Disorders Course
Mastering Movement Disorders Applications in a Fitness & Rehab Setting Movement is life. But what happens when you are presented with a client or patient that has trouble with movement. From neurological to orthopedic, there are various causes for pathological gait and it's important for you to understand the most common movement disorders encountered.
Join Functional Podiatrist and Human Movement Specialist Dr Emily Splichal as she explores the most common movement disorders including motor neuropathy (Charcot Marie Tooth & foot drop), sensory neuropathy (diabetic and chemo neuropathy), dystonia, hypertonia, Ehler's Danlos + much much more!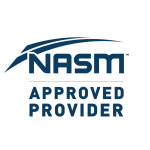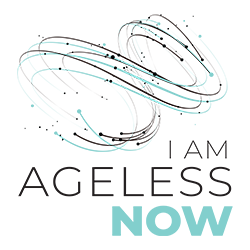 I Am Ageless Now is a program specifically designed to provide the strategies for people to live pain-free—with vitality and the ability to be active—no matter their age. With millions of active-aging individuals, people need to know how to train with no pain!
This method was created by Leslee Bender, international speaker and certified fitness professional and creator of the Bender Ball.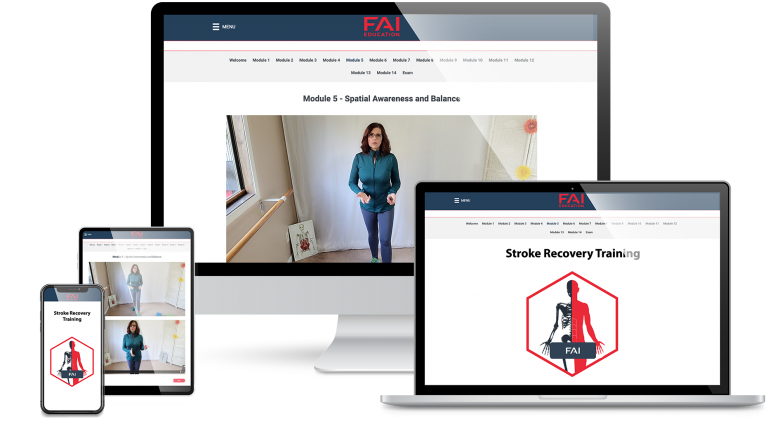 Stroke Recovery Training Course
Did you know that we have 7 million stroke survivors in the United States? Unfortunately, those stroke survivors can sometimes be met with extremely limited physical therapy options. In turn, they along with many stroke survivor caregivers are seeking out fitness professionals for help. With over 20 years in the fitness industry, Tracy Markley, CPT, has developed the Stroke Recovery Training course to bring knowledge, experience, and exercises to help fitness professionals guide a stroke survivor to a better recovery.
As a fitness provider, what will you learn? You will learn about stroke statistics, brain damage, and neuroplasticity. Additionally, you will be equipped with how to communicate and train a survivor who has spasticity, limited arm movements, foot drop, walking gait, hyperextended knees, balance challenges, aphasia, memory issues, and more. Included in the course is a large section with muscle illustrations and biomechanics of the body's movements to help you put together programs for a stroke survivor.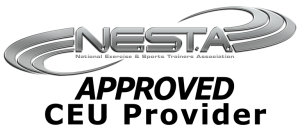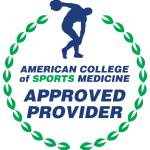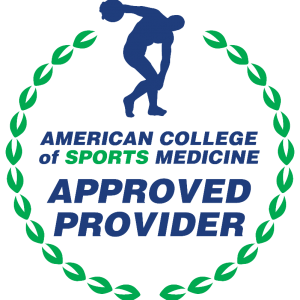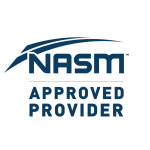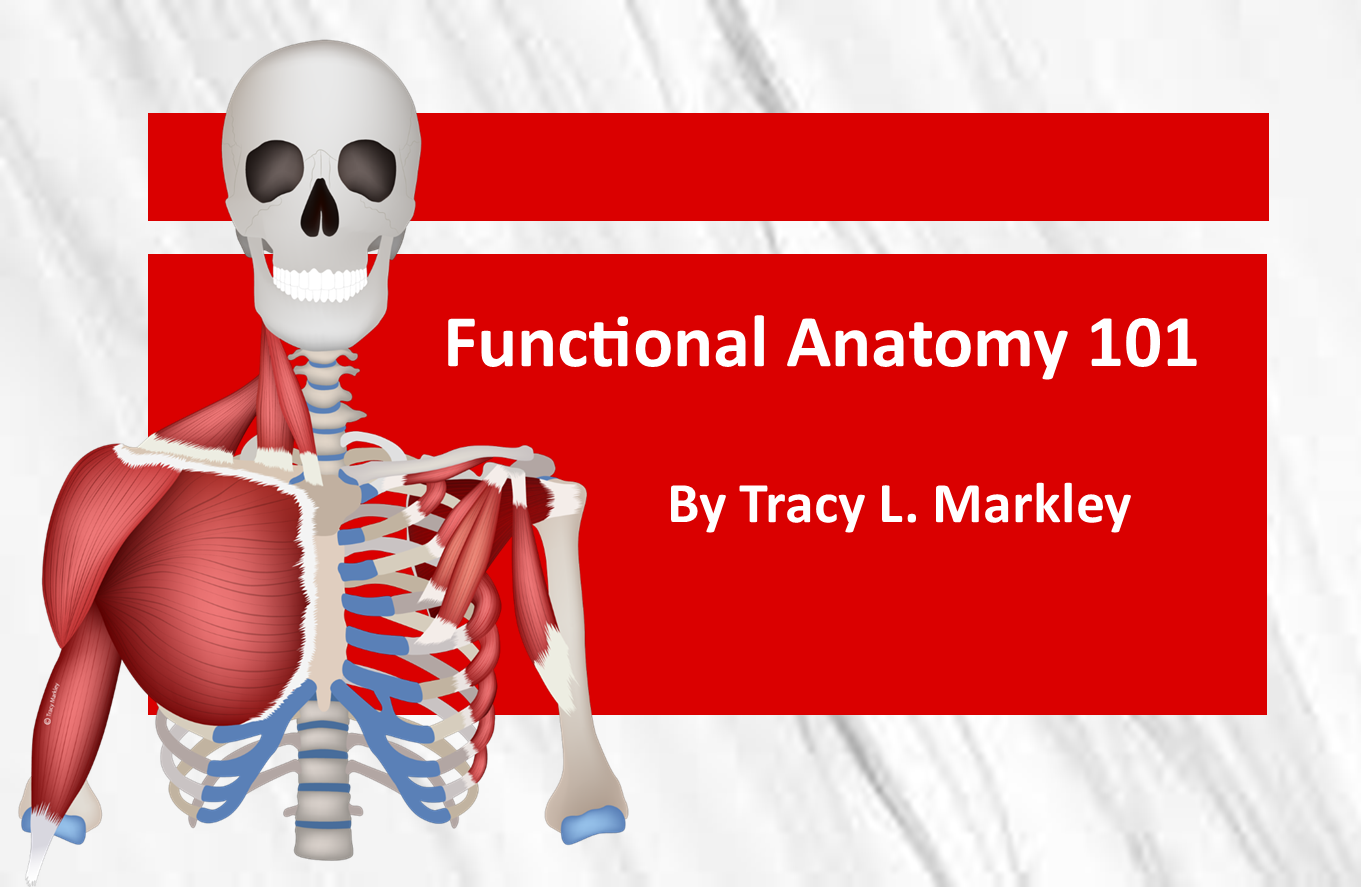 Developed by Stroke Recovery Training's Tracy Markley, this new course, Functional Anatomy 101, will help you build a stronger foundation of muscles and movement to help you with clients of all ages, fitness levels, and the many different physical dynamics clients have when we meet them. As a fitness professional when we have more knowledge and understanding of movements and what muscles perform, we can feel more confident to take on those clients who have more physical limitations than the average healthy client.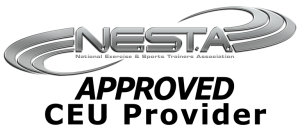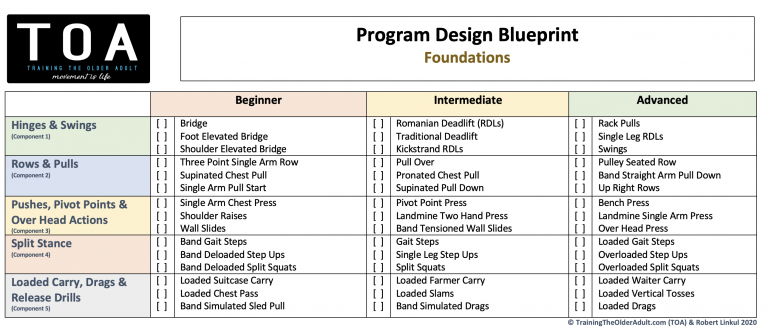 TOA Foundations of Resistance Training, Part 1
As Fitness Professionals, the greatest threat to our community of clients is weakness. Sarcopenia affects up to 45% of the US population and is directly related to arthritis, osteoporosis, fall risks and an overall decrease in quality of life. How can we help keep our clients from becoming a statistic? Proper resistance training is the answer! Welcome to TOA's Foundations of Resistance Training!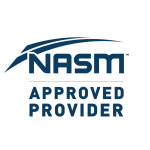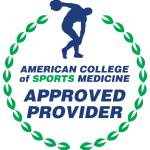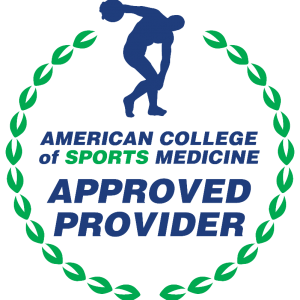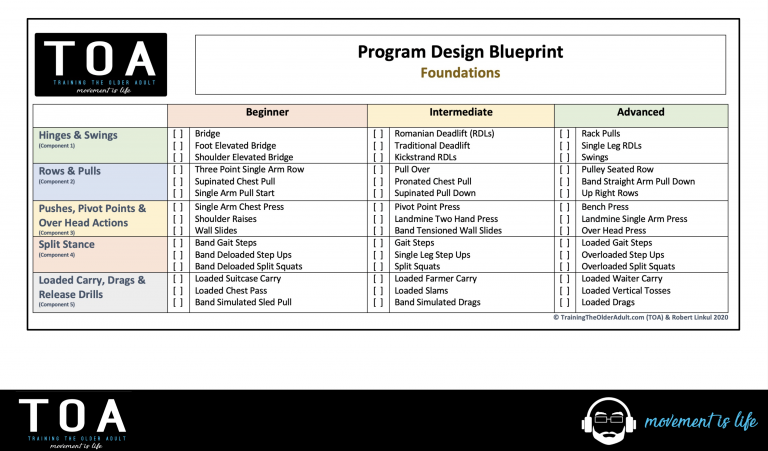 TOA Foundations of Resistance Training, Part 2
In Course 2.0 Robert will introduce three intermediate exercises in each component that build upon the basics and are designed to challenge your clients who have established a solid lifting foundation with the exercises found in Course 1.0. Robert will instruct you on the proper cues and teaching progressions for each exercise, discuss the more common physical limitations for older adults and how each exercise can be modified to accommodate these limitations and he will introduce you to three new program design formats including pyramids, super sets and trisets.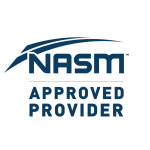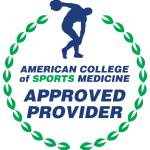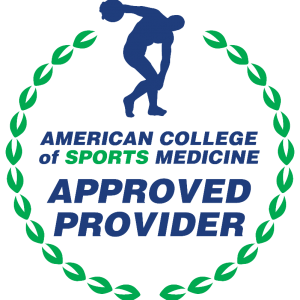 Health Coaching Riding the Aging Wave, Part 1
In this course we will focus on ways to support our clients across decades of aging. While this is not a Health Coaching certification, you will learn about health coaching methods you can use to help your clients stay on their fitness path through life's events and transitions. The content will include concepts with a perspective on Middle Age and Older Age and most importantly where there are differences.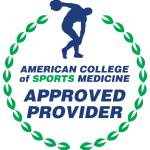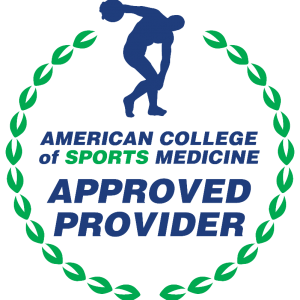 The Age Well Collective (AWC) ushers in a new paradigm for comprehensively addressing the physical and cognitive decline associated with the aging process.
The AWC was specifically created for fitness professionals just like you to enable you to deliver integrated, safe, and effective programs to your older adult population.
The AWC brings together industry experts who will help you comprehensively understand and address the primary domains of aging: posture and movement, cognitive health, balance, and resistance training.
You will discover real-world strategies for delivering the most appropriate assessments and designing corrective and functional exercises to improve posture, movement, balance, and cognitive health.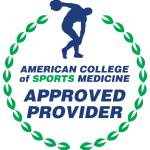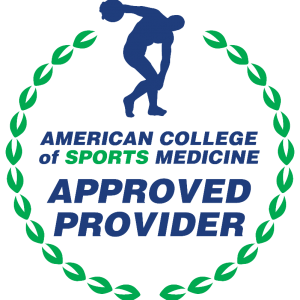 Anchor Point Training Active Aging Course
The APT Active Aging Program Will Give You A New Ideas And Exercise Movements Using Resistance Bands And Suspension Straps. Join Dr. Dan Ritchie And APT Creator Chris Severs In This Short Hands On Course.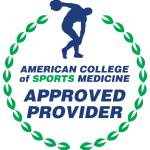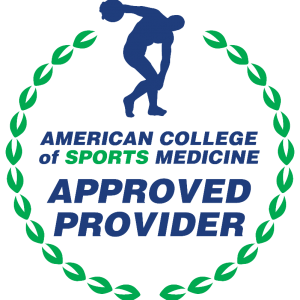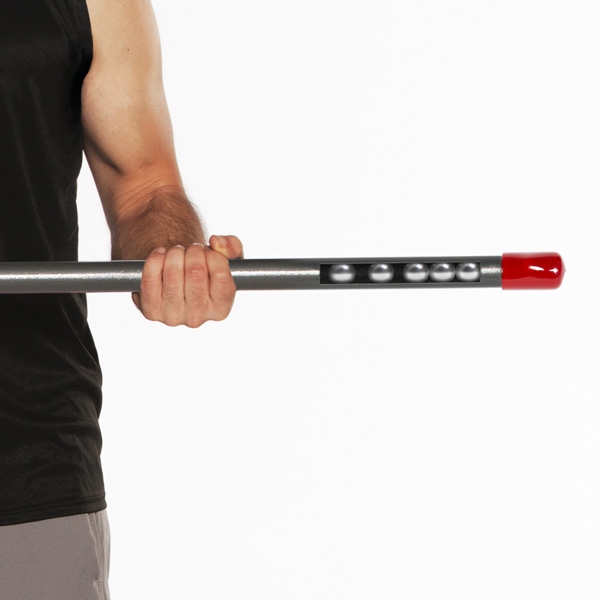 Functional Core and Balance
This course will guide you through they key concepts, thought processes, strategies and exercises that will help you help your clients make real progress in their fitness program. If you have the desire to truly improve the quality of life and health of your active adult and senior clients, this course will deliver incredible value for you.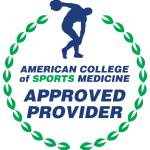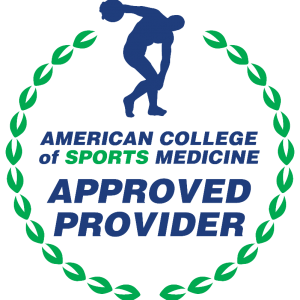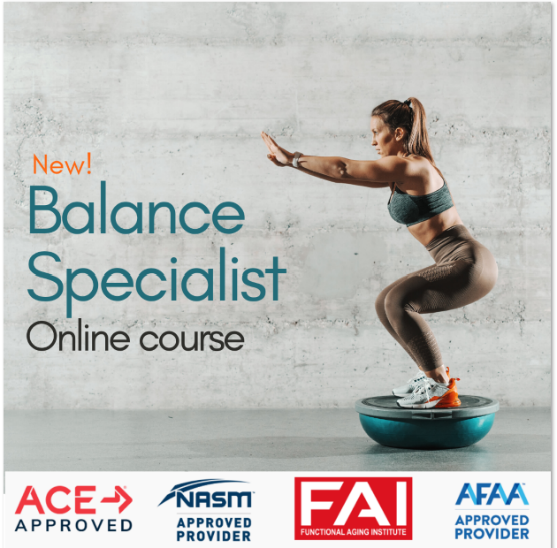 Do you want to be a balance hero? Do you want to get more referrals?
The Zibrio Balance Specialist online course was created to make you an expert. Created by a world expert in balance, they teach you the 5 steps for designing a personalized balance training program that your clients will love.
The Balance Specialist Course includes:
✅ The secrets of how the body controls balance
✅ 5 step formula for creating a personalized balance training program
✅ Little known tips about balance from cutting edge science
✅ Why standing on one leg isn't enough
✅ Fall prevention: we give you the training equation
Once you complete the course, you can opt into the Balance Specialist database so people looking for a trainer can find you.
Earn 3 CECs/CEUs today!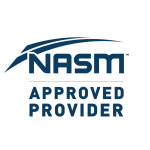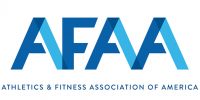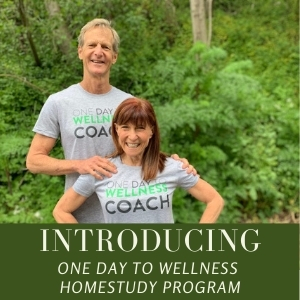 One Day to Wellness Homestudy Program
Elevate not only your health & coaching skills, but also the wellness of your clients with our Homestudy program.
From the World Health Organization to Kaiser Permanente, global experts agree the balance of scientific evidence suggests the healthiest way to eat is a diet of whole-food plant-based foods discouraging meat, dairy products, eggs, and all refined processed foods.
Leveraging the lessons of the healthiest and longest-lived people on the planet, we have incorporated plant-based nutrition, mindfulness, movement, along with simple behavioral change strategies into a dynamic and life-changing nine-hour certification. This program offers everything you need to advance your evidence-based wellness career. We provide you with the tools you need to assist yourself and others to "Lean to the Green." Whether your goal is weight loss, longevity, enhanced athletic performance, or all of the above, this is the program for you.
One Day to Wellness not only provides this life-changing day but also all the back end support you need to thrive in your own life as well as help others live their best life.
This program is for everyone as our unique strategies for success align with coaching yourself, clients, family, and friends.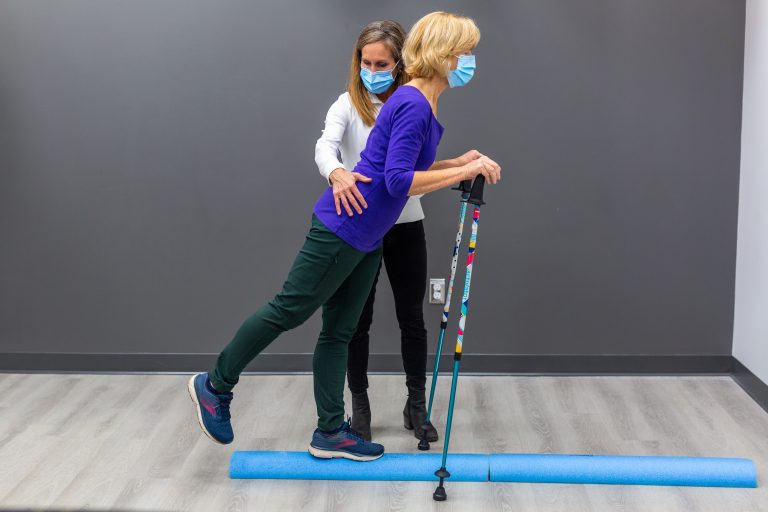 Urban Poling - Activator Course
Learn about the dynamic, evidence-based ACTIVATOR® Program prescribed as best practice for rehabilitation programs across Canada & abroad to improve outcomes in gait, balance, posture, and core strength while inspiring active living.
ACTIVATOR® Poles are an FDA registered, patented tool that is revolutionizing rehabilitation. Prescribed extensively in all continuums of health care for therapy and to reduce or delay the use of passive mobility devices such as canes, crutches, and walkers (as deemed appropriate by rehab professionals). Complete this practical, fun, and internationally acclaimed course to become a designated ACTIVATOR® Trainer!
Use code FAI100 for $100 off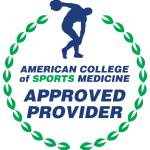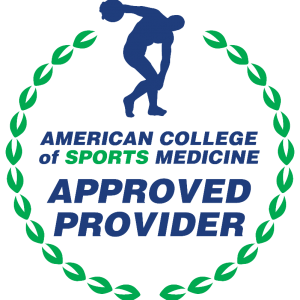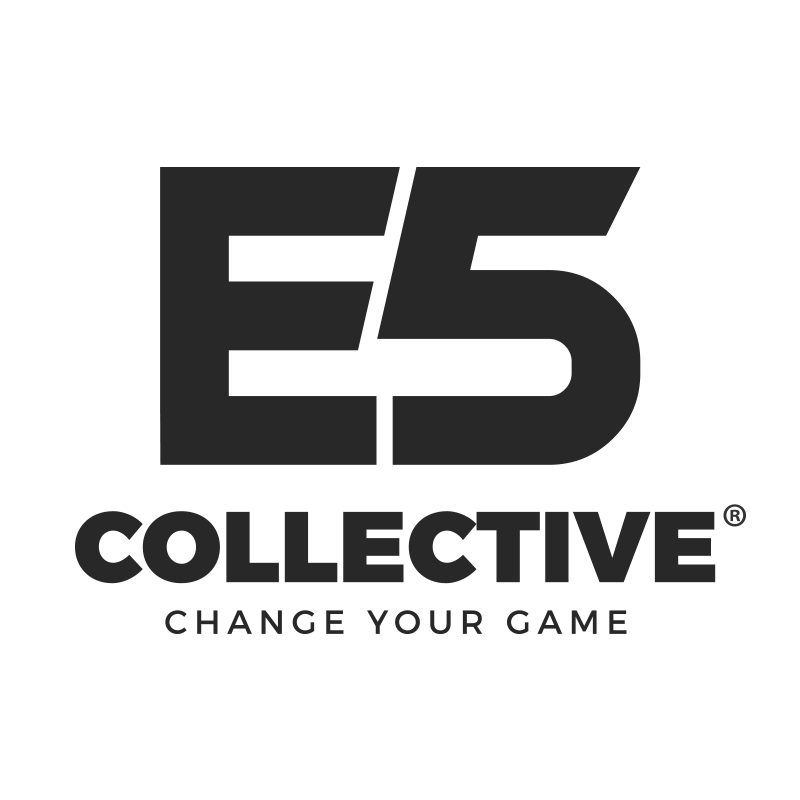 E5 Collective® Instructor Training Course
Created by Aimee Nicotera, MS
Discover a fresh approach to giving your clients what they WANT and what they NEED! Based on the science around variability, loaded movement training, cognitive health, play and mindset, the E5 Collective formula packages together innovative approaches and creative strategies, to help clients improve their health and fitness in a fun, accessible and inclusive way! Though appropriate for a variety of ages, the E5 Collective experience is a favorite among active older adults and can be incorporated into individual training sessions, small groups or larger classes.
Learning Objectives:
Explain the purpose of E5 Collective, the reasons behind its creation, and the intentions of the program design
Identify the details behind the scientific anchors, including variability training, cognitive health, mindset, and play, and how they are incorporated into the format and structure
Explain the design of E5C by segment and gain an understanding of segment objectives, essential elements and structure
Learn how to program an E5 Collective session and receive the tools to do it successfully